Sep
12
Thu
Dear Mary: Letters Home from the 10th Mountain Division 1944-45

@ Essex Meadows, Hamilton Hall
Sep 12 @ 3:00 pm – 4:00 pm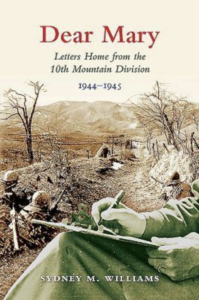 Southeast Connecticut World Affairs Council (SECWAC) and Essex Meadows Community Partnership present Syndey Williams, local author, discussing his new book 'Dear Mary: Letters Home from the 10th Mountain Division, 1944-1945' at 3:00 p.m. on Thursday, September 12 in Hamilton Hall at Essex Meadows, 30 Bokum Rd, Essex, CT 06426.
The meeting, part of a new Community Partnership between SECWAC and Essex Meadows, is free for SECWAC members and their guests.
Local Author Sydney Williams writes of his book,
"Next year we will celebrate the 75th Anniversary of the end of the Second World War. We are losing World War II veterans at an ever-increasing rate and with them go their memories. It is their letters that remain. My father died fifty-one years ago and my mother twenty-nine years ago. Yet, in reading their letters they come alive. It is as though they were in the room with you. Their hopes, their dreams and their concerns and fears become part of our fabric. As well, we see their love and their humor, despite the desperate circumstances. It is through letters that we are allowed to see and remember the personal side of history. While the letters in this small book are between two people, the message is universal. They speak of a time and a place; they remind us of our history and of the selflessness of this country – the only one that ever sent soldiers overseas, not to conquer or to build or protect an empire, but to free people from tyranny, in this instance from the horrors of Nazism and Fascism. It was a magnanimous act by a people of all races and religions, an act that has never been matched."
ABOUT SYDNEY WILLIAMS
Sydney Williams was born in New Haven, Connecticut, and grew up in New Hampshire. Following mandatory military service, he graduated from the University of New Hampshire and then spent 48 years on Wall Street. In early 2000 he began writing a "Market Note," which morphed into essays on politics ("Thought of the Day") and other subjects. He has authored two previous books: "One Man's Family: Growing Up in Peterborough & Other Stories" and "Notes from Old Lyme: Life on the Marsh & Other Essays." He is working on a third book of essays, which will be titled, "Essays from Essex," with a subtitle yet to be determined. Williams has been married to his wife Caroline for 55 years; they have three children and ten grandchildren, and live in Essex, CT.
Oct
10
Thu
In a Time of Monsters – a Middle East in Revolt

@ First Congregational Church of Old Lyme
Oct 10 @ 5:30 pm – 7:30 pm
Join us Thursday, October 10 at theFirst Congregational Church of Old Lyme, for a presentation by Emma Sky, Jackson Institute at Yale University, titled, "In a time of Monsters – a Middle East in Revolt," based on her book of the same name. A reception begins at 5:30 p.m., with the presentation starting at 6:00 p.m.
This event will be our Quarterly Colloquium. Following the colloquium, dinner will be at Old Lyme Country Club (optional $35 meal with additional Q&A with the speaker).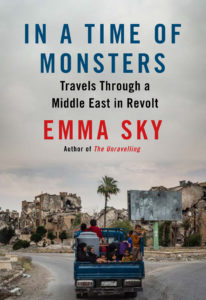 The story of one woman's journey throughout the Middle East during the Arab Spring, in a quest for hope, humanity, and home in the aftermath of the Iraq war.
Returning to the UK in September 2010 after serving in Iraq as the political adviser to the top American general, Emma Sky felt no sense of homecoming. She soon found herself back in the Middle East traveling through a region in revolt.
In A Time of Monsters bears witness to the demands of young people for dignity and justice during the Arab Spring; the inability of sclerotic regimes to reform; the descent of Syria into civil war; the rise of the Islamic State; and the flight of refugees to Europe. With deep empathy for its people and an extensive understanding of the Middle East, Sky makes a complex region more comprehensible.
A great storyteller and observational writer, Sky also reveals the ties that bind the Middle East to the West and how blowback from our interventions in the region contributed to the British vote to leave the European Union and to the election of Donald Trump as president of the United States.
Emma Sky is a Senior Fellow at Yale University's Jackson Institute. She worked in the Middle East for twenty years and was made an Officer of the Order of the British Empire for services in Iraq. She lives in New Haven, Connecticut.
Copies of Sky's book will be available after her presentation.
Apr
15
Wed
Submarine Fleet in the US Military Strategy
Apr 15 @ 5:30 pm – 7:30 pm
Join us in April 2020 (exact date and location TBD) for a presentation by Admiral John Padgett, retired Commander of the US Pacific Submarine Fleet, titled, "Submarine Fleet in the US Military Strategy." A reception begins at 5:30 p.m., with the presentation starting at 6:00 p.m.
More information to come.