Jan
28
Mon
Patriotic Ayatollahs: Nationalism in Post-Saddam Iraq

@ Crozier Student Center, Connecticut College
Jan 28 @ 5:30 pm – 7:30 pm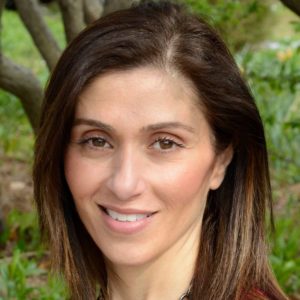 Monday, January 28, 2019, Caroleen Sayej, Associate Professor of Government and International Relations at Connecticut College, will present on "Patriotic Ayatollahs: Nationalism in Post-Saddam Iraq." The presentation will take place in the Crozier Student Center at Connecticut College, starting at 6pm.
The talk aligns with Caroleen's new book, Patriotic Ayatollahs: Nationalism in Post-Saddam Iraq.
Learn more in the Press Release.
ABOUT OUR JANUARY SPEAKER:
Caroleen Marji Sayej specializes in comparative politics and the Middle East. She teaches Comparative Politics; Iran: State, Politics and Society; and Middle East Politics.
Professor Sayej's research and teaching interests encompass both macro- and micro-level analysis of authoritarian political systems with a focus on Middle Eastern studies. These include the comparative study of democracies and autocracies, legitimacy crises, and sub-systemic changes within regimes — all to account for the persistence of authoritarianism. She is also working on the inter-relationship of state and society, including the role of political Islam and the new social groups that are forming in contemporary Middle Eastern societies.
Most recently, she has been working on political change and consolidation in Iraq. She has co-authored a book, The Iraq Papers, (Oxford University Press, 2010) with John Ehrenberg, J. Patrice McSherry, and Jose Ramon Sanchez, the most comprehensive textbook on the 2003 Iraq War and its aftermath, analyzing the event from the conceptual framework of preemption. In it, Sayej focuses on the civil war in Iraq as well as indigenous voices for democratization.
After the recent revolutions in Tunisia and Egypt, Sayej gave a talk on campus, "A New Middle East? Revolution, Democracy and the Authoritarian Legacy." Sayej discussed the significance and implications of the popular uprisings in a region traditionally labeled as "immune to democracy." She also served as a faculty expert on the situation for the media, giving a live 15-minute interview on WDRC-AM's "The Talk of Connecticut" Feb. 3, 2011, and speaking to The Day for a Feb. 1 story.
Feb
20
Wed
The Deep History of Global Affairs

@ Crozier Student Center, Connecticut College
Feb 20 @ 5:30 pm – 7:30 pm
Join us February 20, 2019, at the Crozier Student Center at Connecticut College for a presentation by Carl Zimmer, Independent Scholar and Journalist. He will discuss, "The Deep History of Global Affairs."
More information TBA.
ABOUT OUR FEBRUARY SPEAKER:
Carl Zimmer is the author of thirteen books about science. His newest book is She Has Her Mother's Laugh: The Power, Perversions, and Potential of Heredity. His column Matter appears each week in the New York Times.
Zimmer's writing has earned a number of awards, including the 2016 Stephen Jay Gould Prize, awarded by the Society for the Study of Evolution to recognize individuals whose sustained efforts have advanced public understanding of evolutionary science. In 2017, he won an Online Journalism Award for his series of articles in which he explored his genome. She Has Her Mother's Laugh was selected for the shortlist for the 2018 Baillie-Gifford Prize for Nonfiction.
A professor adjunct at Yale University, Zimmer is a familiar voice on programs such as Radiolab. He lives in Madison, Connecticut, with his wife Grace and their children, Charlotte and Veronica. He is, to his knowledge, the only writer after whom a species of tapeworm has been named.